Global leaders on Belarus
Angela Merkel
Former German Chancellor
When you see the courage shown by the women who are appearing on the streets in Belarus for a free life without corruption, then I can only say: I admire that and find it truly impressive.
Emmanuel Macron
French President
It is a crisis of power, an authoritarian power that cannot accept the logic of democracy and which is hanging on by force. It is clear that Lukashenko has to go.
Joe Biden
US President
My administration will never shy away from standing up for democratic principles and human rights, and we will work with our democratic allies and partners to speak with one voice in demanding these rights be respected.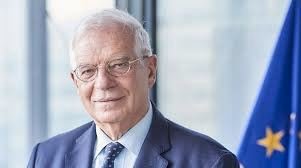 Josep Borrell
EU's Foreign Minister
Violent repression and arrests of peaceful protesters in Belarus have to stop. Belarusian people have right to democracy and free and fair elections.
Edgars Rinkēvičs
President of Latvia
Latvians admire and support our Belarusian friends and neighbours in their struggle for freedom and democracy.
There are three main goals now:
to achieve a national dialogue, to ensure the transfer of power and to hold new elections.
We will do our best to comprehensively provide social protection to people who peacefully express
their position and support democratic changes in Belarus.