Sviatlana Tsikhanouskaya выступила at the opening of the international conference "Russia's hybrid war against the democratic world. A challenge for European remembrance policy" in Prague.
"Prime Minister Fiala,
President Nauseda,
Dear excellencies,
Dear friends,
I am so proud to be here to commemorate the anniversary of the Velvet revolution and to speak on behalf of those brave Belarusians who fight fearlessly for their freedom, dignity, and independence.
The historic achievements of the Velvet revolution still resonate with Belarusians, and were an inspiration for our own uprising in 2020.
At that moment, hundreds of thousands of Belarusians marched peacefully in the streets showing their bravery and love of freedom. I saw bright, optimistic and inspired people in every city I visited during my presidential campaign.
At that moment, Belarusians surprised the world and more importantly, they surprised themselves. It was a unique and unprecedented display of national revival and unity.
At that moment, the people of Belarus rose up against a brutal dictator and also stood up for its own European future. In the decade before this moment, Belarusians were already turning toward Europe. Thanks to the Internet, visas, scholarships, low-cost airlines, Belarusians traveled to Europe, studied there, and integrated with the European community.
Belarusians chose freedom over tyranny, and Europe over the Russian world.
But this did not please Lukashenka and Putin. The Dictators had different plans. Lukashenka was desperate not to lose power and influence. And Putin was already preparing his war on Ukraine. A Free Belarus would spoil his crazed plan to restore the Russian empire.
With the support of Putin and the KGB, Lukashenka crushed the people's protests. Thousands of people were sent to jail, and hundreds of media outlets and NGOs were destroyed. Preventive detentions, torture and routine harassment on state TV became a grotesque normality. Belarus sank into a pit of Stalinist terror and fear.
The moment the war started, we all woke up to a new and brutal reality. Russia brought troops into Belarus and launched its attack on Ukraine. So
now we fight not only for democracy and freedom, but for the very existence of our country.
Belarusians do not accept this new genocidal, Russian imperialism. At great risk to their lives, Belarusians stop Russian trains, destroy Russian military equipment, organize countless acts of sabotage and distribute anti-war propaganda. 86% of the population are against participating in this senseless war.
Even though our country is under a de-facto occupation by Russia, Belarusians show that they stand with Ukraine. Belarusians military volunteers took part in defending Kyiv and liberation of Kherson. Many sacrificed the most important thing they have – their own lives. We know that as we fight for Ukraine, we also fight for our own freedom and future.
At this moment we Belarusians understand acutely: that the fates of Ukraine and Belarus are crucially interconnected. Should Ukraine fall, there will be no future but slavery inside the Russian Empire for Belarus. And there will be no peaceful future for Europe either.
When Ukraine wins, the moment will have finally come for us to return to the European family.
Dear friends,
Today we find ourselves at a historical crossroads and there are only two directions – either a European and democratic Belarus, or a de facto Russian occupation and many years of isolation and lawlessness.
I do believe that Belarusians deserve to live in freedom, and to decide their own future as a nation. Belarus deserves to be a member of the European family where we have always belonged.
Because Belarusians are fundamentally European. For many centuries we co-existed with Lithuanians, Poles, Ukrainians in one state.
The vast majority wish to live peacefully in a democracy. Russia's attempt to rewrite history and separate Belarus from Europe goes against our historical memory and our mentality.
They try to erase our national identity. Belarusian language courses, museums, shops with national symbols and historians and academics were repressed.
In photos of the protests you could see white-red-white flags – our historical flag used in 1918 by Belarusian Democratic Republic and before Lukashenka came to power. It was substituted by a Soviet flag and declared extremist by the regime along with slogan "Long Live Belarus!".
And the worst: they try to convince us that we are abandoned and forgotten by Europe. No one wants you there, they say.
They try to convince us that we are the same as Russians, with no language and culture of our own.
I know that it's a lie. But help me to convince Belarusians of that too. And I have three requests:
First. Show us a European perspective. Belarusians must see that Europe stands with us. Increase engagement with democratic forces. We are seeking a form of partnership that would solidify our place in the European family. It would be a strong sign for the Belarusians that their struggle is not in vain.
Second. Distinguish between people and the regime. It's Lukashenka who made Belarus complicit in this war while Belarusians actively resist it. Sanction the regime but support all those Belarusians who fearlessly fight for their freedom but also for the victory of Ukraine. Assist media, activists, students. Provide visas and refuge for those in need.
Third. Distinguish between Belarus and Russia. Though Belarus became a launching pad for Russian missiles, it doesn't make Belarusians Russians. There is no support for the war in Belarus.
I believe that Free Belarus would be the strongest sanction against Putin, and the biggest help to Ukraine.
Of course, it's up to us to bring Belarus to democracy and freedom. But Belarusians, like Ukrainians, can't win this fight alone. We need allies.
I know that many of them are here in this room.
Dear Prime Minister Fiala,
Let me use this opportunity and thank you for all the support Czech Republic provides and provided to democratic Belarus, and what you do for Ukraine. You accepted Belarusians injured during protests, repressed doctors, medical workers, opened opportunities for young Belarusians. It's very important to strengthen ties between nations, and open opportunities who see Belarus as a truly European country. I am grateful that your government supported the creation of the Office of Democratic Forces here in Prague.
President Nauseda,
Lithuania has become a second home for many Belarusians who were forced to flee the regime, for our activists, human rights defenders and free media. Lithuania has become a second home for me as well, for my children, my colleagues. Belarusians see and feel your support. Lithuania not only as a good neighbor, but a friend. And we cherish our common values and centuries of common history.
Dear friends,
On this anniversary of the Velvet Revolution, I want to ask all of us to stay brave and patient.
I have no doubt that the values of democracy will prevail. I am sure that the ideas of Vaclav Havel about a united free Europe, where free Ukraine and Belarus will have a place, will become a reality. But we have some work to do yet.
Stay with Belarus. Stay with Ukraine. Stay with democratic Europe".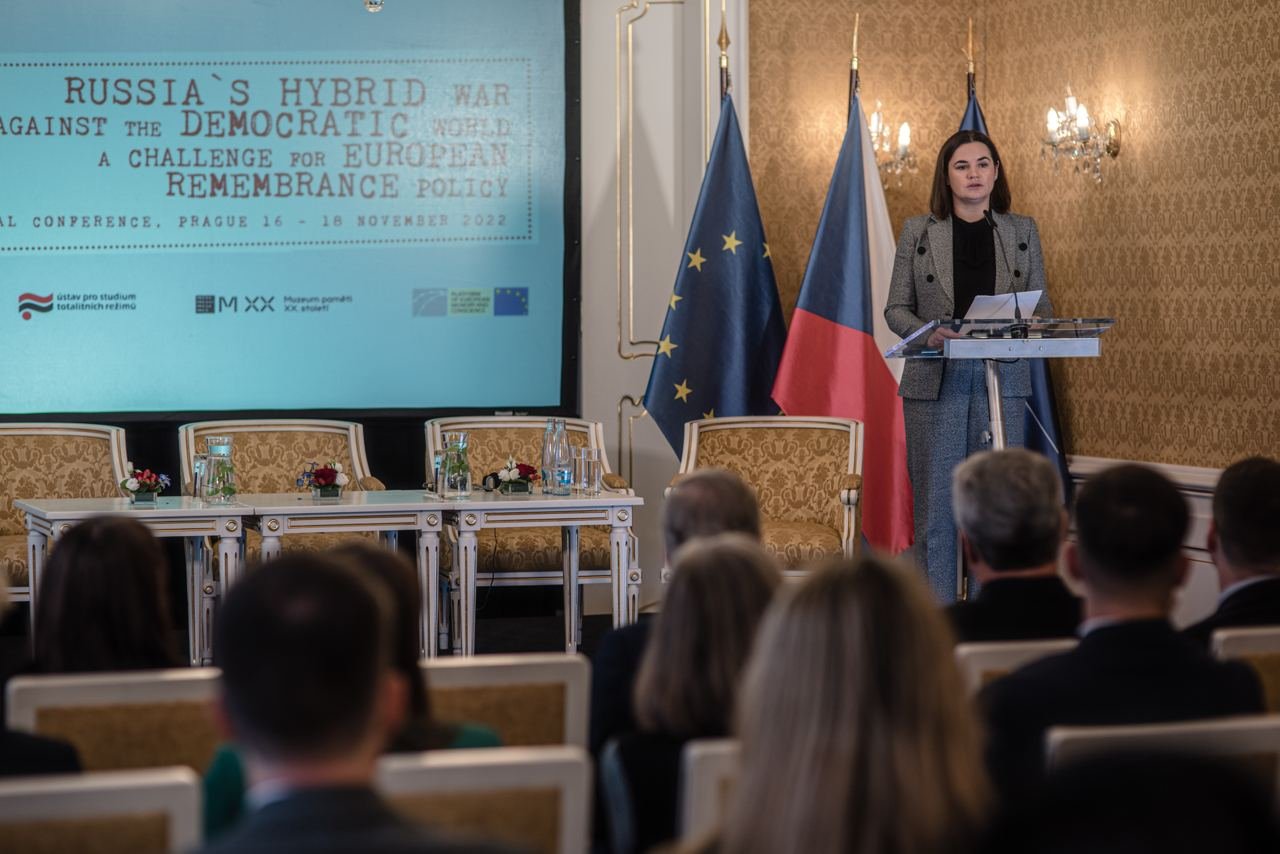 17 November 2022 в 11:34