Sviatlana Tsikhanouskaya calls to dedicate the Day of Solidarity with Belarus on February 9 to free media, journalists, bloggers, and all those who tell the truth about the situation in the country. February 9 marks a year and a half of peaceful protests in Belarus against violence, lawlessness, and the state terror of the illegal regime.
While the resistance of millions of Belarusians continues underground in various creative forms, independent media are at the forefront of the struggle. Courageous journalists, bloggers and media influencers continue their work on the ground and in exile, despite the harsh repressions and danger for their personal safety.
Throughout 2021, the regime attacked many independent media in Belarus, including regional news outlets, to create an information vacuum in the country: TUT.by, Nasha Niva, Belsat, Tribuna.com, kyky.org, Euroradio, Radio Svaboda (RFERL), Hrodna Life, Intex-Press, and many others. More than 50 media websites have been blocked since the summer of 2020. At least 400 media professional were forced to flee the country.
More than 40 media representatives (journalists, editor, bloggers, etc) are imprisoned and many have received long sentences. This month, journalist Aliaksandr Ivulin was sentenced to 2 years in prison. Bloggers Siarhei Tsikhanouski and Ihar Losik – to 18 and 15 years, Belsat journalists Katsiaryna Andreyeva and Darya Chultsova – to 2 years. The team of TUT.by – Maryna Zolatava, Alena Talkachova and 9 more people, editor-in-chief of Nasha Niva Yahor Martsinovich, journalist and member of the Union of Poles in Belarus Andrzej Poczobut, co-founder of the online media outlets kyky.org and The Village-Belarus Aliaksandr Vasilevich continue to stay behind bars. Journalist Kseniya Lutskina suffers brain tumor in prison. In May 2021, the regime hijacked a Ryanair aircraft to arrest blogger Raman Pratasevich who is still held hostage.
According to the Reporters Without Borders annual report, the brutal crackdown has made Belarus the world's third-largest jailer of journalists, and more than a quarter of all female journalists imprisoned in the world are currently in Belarusian prisons.
The international community should be vocal about the violence and repressions against media workers, censorship, and the lack of access to the internet and free information.
"We need to keep Belarus on the agenda and shed light on the regime's actions. The dictator has done everything to shut the mouth of independent journalists and prevent the world from seeing what has been happening in our country. This cannot be allowed to happen", – says Sviatlana Tsikhanouskaya.
Solidarity events will take place between February 9 and February 13. Find media materials here. Fore more information about political prisoners and repressions against media in Belarus, check baj.by, spring96.org, Libereco, rsf.org, press-club.by.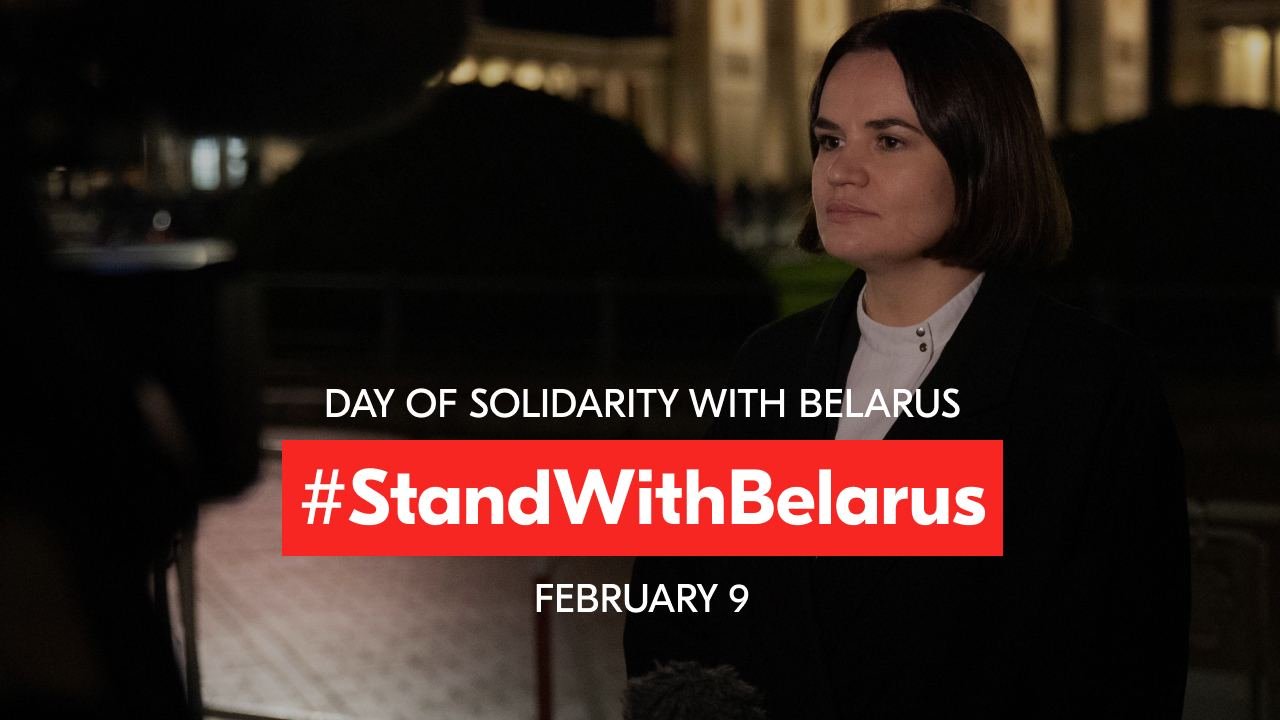 What support is needed for the Belarusian free media on the ground and in exile?
Media, offline, and online campaigns: raising awareness about the situation in Belarus and the dangerous work of journalists under repression. You can also help by sharing your thoughts about the situation for political prisoners in Belarus on social media and using the hashtag #StandWithBelarus.
Solidarity with the political prisoners and their families: write letters or become a patron of political prisoners in Belarus. Check the Viasna Human Rights Center website to learn more about the political prisoners or send letters via the Vkletochku initiative website. Support Belarusians by donating to funds helping political prisoners and their families,such as A Country to Live In, BySol, #BY_help.
Emergency aid for journalists: legal and financial support, support for relocation and staying abroad; support through Media Solidarity Belarus (MediaSol), Reporters without Borders (Rest and Refuge), International Media Support (Safety Fund).
Supporting innovative formats: social media, bloggers, Telegram channels, Youtube channels; citizen journalism and crowdsourcing; investigative journalism; samizdat 2.0; European media; independent and regular reporting on Belarus; media partnerships with Belarusian outlets.
Promotion of independent media: in Belarus – Program of the Belarusian Journalists' Association, Press Club, United Mass Media, IBB Media Academy; Infopoint Media Network; from abroad – Program of Internews Europe (France), Free Press Unlimited (Netherlands), European Centre for Press and Media Freedom (Germany).
Plan to organize public, virtual, hybrid, or offline events on the press freedom crisis in Belarus, discuss possible solutions, and what the international community can do.
27 January 2022 в 12:00