"Dear friends,
There is no more important thing in the world than freedom. But Freedom can never be taken for granted. And freedom is not given forever.
At any moment it can be taken away. Freedom is something we have always had to fight for and sustain.
Nobel Peace Prize laureates know very well the value of freedom, and pay a very heavy price for it.
Belarusian Ales Bialiatski, Russian "Memorial" and Ukrainian "Center for Civil liberties" are real champions of freedom. Each of them have worked tirelessly and bravely for a better and freer world.
Belarusian human rights defender, and also my friend Ales Bialiatski was not able to receive his prize. The Dictatorial regime in Belarus has put him in prison. He is being held in subhuman conditions. But even from prison, he continues to inspire us to fight on. And I hope he can feel our support too.
The fight for freedom is often romanticized. However, there is another, darker picture of this struggle because the path to freedom is paved with pain, tears, and suffering.
It's hard to be optimistic when you know that at this very moment one of your friends is being tortured by the KGB, and that another might face the death penalty for opposing tyranny.
It's hard to be optimistic when your city is being bombed, and yesterday you burried your best friend or family member.
Today we pay tribute to every Belarusian, and every Ukrainian, who in spite of such terror and fear continue to fight. Who hold high the torch of light even if everything around is shrouded in darkness.
What we see in Belarus, and what we see in Ukraine, is the fight between freedom and tyranny, between justice and lawlessness, between a dark past and a bright future.
The evil of the past is trying to destroy everything we have built, and everything we cherish. This evil past is challenging all of us today: are we ready to defend our values? Or are we just spectators who don't have the courage to stand up.
None of us here are spectators. We are fighters. We are defenders of freedom. And our fight is a global one. None of us can be free until everyone is free.
I know our fight in Belarus can sometimes sound a bit distant to you. But let me assure you that every word of support, every act of Solidarity, every brave decision by your governments and by each and every one of you actually does matter.
It makes a difference. And it helps us to keep on fighting.
 Each of us can make small steps of courage individually. But if we are united – we will march towards victory in our millions.
Today, I believe that not only Belarusians and Ukrainians, but also the whole world needs to be fully committed to this right and just struggle.
It's not only our goal, but also our duty:
To free Ales Bialiatski and the thousands of Belarusians in prison.
To help Ukraine to win the war.
And to bring peace, stability and democracy back to our continent.
Nothing is impossible. Step by step we will defeat this evil. And yes, we will have a world where the rights of every single person will be respected.
Belarusians live for this dream and fight for it every day. And you know, when we look to the future, we always say: "Вясна прыйдзе!" which means "Spring, will come!"
Together, we can make our common dream come true and we will enjoy the spring together in freedom!
Thank you! Слава Украіне! Жыве Беларусь!"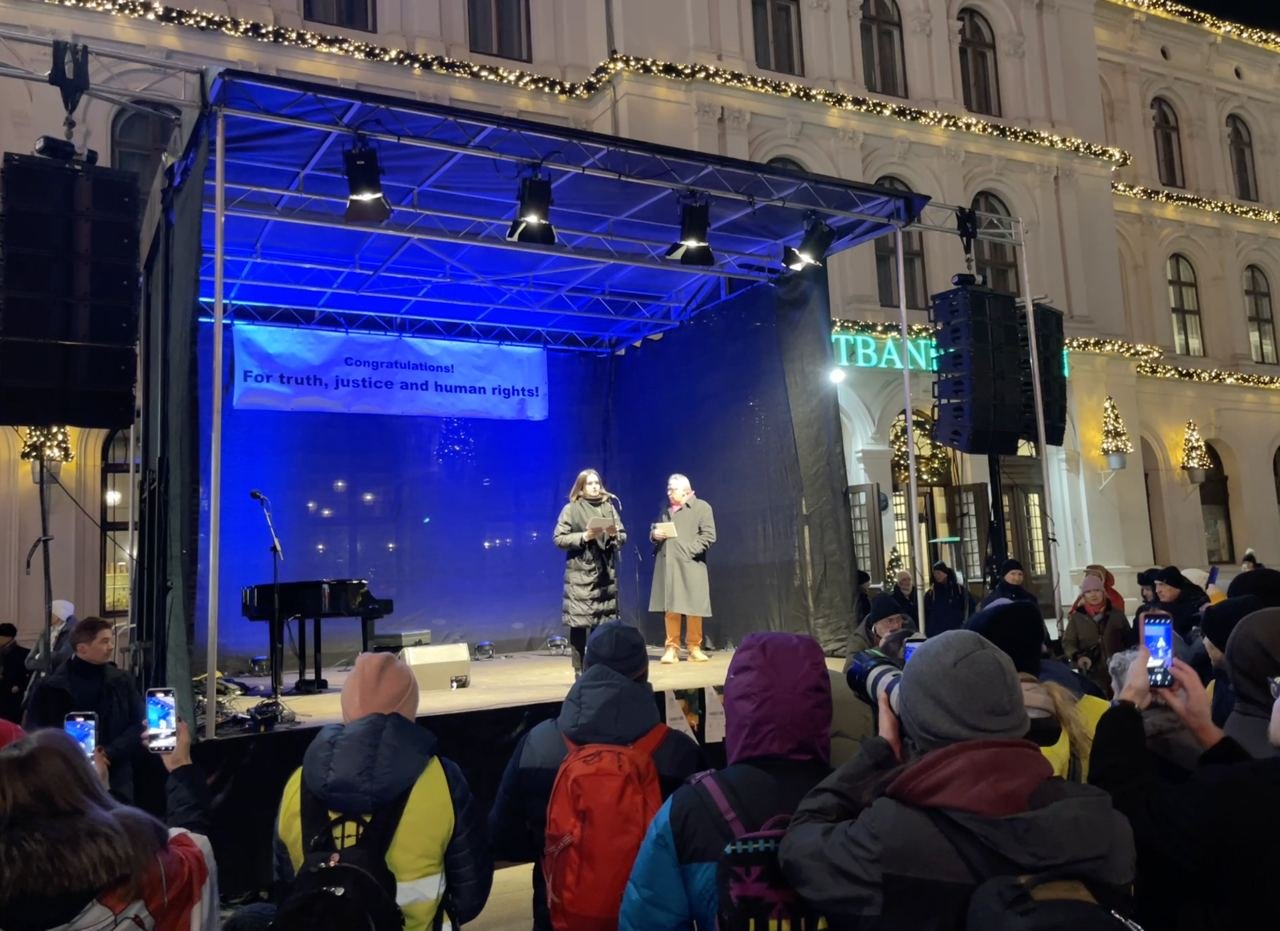 10 December 2022 в 19:10