"Dear Excellencies, friends, colleagues.
It's an honour to speak at the Royal United Services Institute on behalf of the many courageous Belarusians who fight fearlessly every day for freedom, democracy and the independence of our country.
While the eyes of the entire world are on the war in Ukraine, I will be speaking about another war, one that has been raging in my country since 2020. And this war is directly connected to the war in Ukraine.
The structure of my speech is going to be as follows:
First, I'm going to emphasise the significance of Belarus for Europe's security;
Second, I'm going to describe the present-day political reality in Belarus in relation to the war in Ukraine;
Third, I'm going to tell you about what my Office, the United Transitional Cabinet and the Belarusian people are doing to resist Russian aggression;
Fourth, I'm going to share with you our vision for a free and democratic Belarus.
Two weeks ago, on February 22nd, a group of European journalists published a terrifying document, leaked from the Office of the President of Russia. The document was written in summer 2021 and it is called "Russia's Strategic Goals in Belarus". It has exposed Russia's strategy to occupy and colonise Belarus by the year 2030.
Experts agree that the document is authentic. Many of the steps in that document have been already been implemented, such as the complete control of political life, the economy, and media in Belarus.
This document is proof of the strategic importance of Belarus for Russia's plans to regain control of Eastern Europe. Without Belarus, it would be impossible for Russia to use its control over Kaliningrad to threaten Poland and the Baltic countries.
The Russian attack on Kyiv, launched from the territory of Belarus last year, showed the vital strategic importance of the so-called "Belarusian corridor" for Ukraine's safety.
It is obvious that Russia will continue to tighten its grip on Belarus. This is strategically more important for Russia than some parts of Ukraine.
This is the main reason why Russia, in the year 2020, supported Lukashenka as their key political ally in Belarus. In spite of all their personal, mutual animosity, Lukashenka and Putin have one thing in common: they are both loyal to the Soviet imperial past and therefore hate democracy, freedom and everything associated with the West.
It is no wonder that the post-Soviet Belarusian elites around Lukashenka cling to Russia as the source of their security and financing of their power. However, their desire to remain a Russian satellite goes against the will of the majority of Belarusians.
The Belarusian people expressed their will to live in an independent sovereign country in 2020 by voting against yet another Lukashenka presidency. His power today is illegitimate, and so are his political decisions.
According to recent sociological data by Chatham House, from January this year, the majority of Belarusians are against Russia's war in Ukraine. More than 86% of Belarusians are against any participation of the army of the Republic of Belarus in the war.
Nevertheless, Lukashenka's fraudulent regime has taken an active part in this horrific war since its beginning.
On the very first night of the war, with lLukashenka's agreement, Russian tanks crossed the Belarusian/Ukrainian border to attack Ukraine. Last year, more than 1000 Russian missiles aimed at targets in Ukraine were launched from Belarusian soil and airspace. According to the monitoring group Belaruski Hayun, the Russian air force has used eight Belarusian airfields. Russian armed forces were using Belarusian railway and road infrastructure to move the troops, vehicles and equipment into Ukraine and they continue to use it. Russian military vehicles are repaired and refuelled in Belarus. Belarusian hospitals in Minsk, Homiel, Mazyr, Yelsk and others provide treatment for wounded Russian soldiers.
And even today, Lukashenka provides Russian troops with training facilities on Belarusian soil. Belarusian weapons, ammunition, tanks, armoured vehicles, are regularly handed over to Russia. At least three Belarusian airfields (Luninets, Ziabrauka, Vialiki Bokau) are used by the Russians as army bases. At least 10 thousand Russian troops have been deployed in Belarus. And their objective is not just Ukraine, but control over Belarus.
The complicity of Lukashenka's regime in Russia's war is evident. It is also rooted in 2020. Lukashenka owes Putin for his political, financial and military support in 2020 when he was on the brink of losing power. And he has paid for this support with Belarus' sovereignty.
Now we know that the crackdown that followed was a prelude for launching the full-scale invasion of Ukraine. Was it possible to prevent this tragedy? Yes. Was Lukashenka involved and does he bear responsibility? The answer is also, yes.
If we follow the pattern of Lukashenka's behaviour over the last 3 years, it was entirely predictable. Lukashenka's regime constantly undermined peace, stability and international cooperation. You will remember, in 2021, Lukashenka orchestrated an artificial refugee crisis on the Polish and Lithuanian border. The same year, he hijacked a commercial Ryanair plane in order to arrest one of his critics, the independent journalist Raman Pratasevich.
Yet Lukashenka claims that he has stayed out of Putin's war and is even now he is cynically posing as a peacemaker. But the truth is that it was his fear of losing power in Belarus which created a mortal threat to Ukraine, and to peace and stability in Europe.
As I have said, Belarusians are against this war today as they have been actively opposing it from the beginning. Hundreds have been arrested for taking part in the spontaneous anti-war protests last February.
In March 2022, Belarusians made a truly heroic effort to stop Russian military trains passing through Belarusian territory. They carried out more than 80 acts of sabotage that succeeded in disrupting the rail network for a week, helping to defend the Ukrainian capital Kyiv against Russia's brutal attack.
For that, 11 Belarusian partisans have just been sentenced to 175 years in jail. The youngest of them, Uladzimer Auramtsau, a fitness trainer from Babruysk, is 28 years old. One of Lukashenka's judges sent him to prison for 22 years, because he prevented Russian troops from killing innocent Ukrainian citizens. Uladzimir didn't harm anyone and saved many lives. Now he is in jail. He is not due to be released until he is 50. But I firmly believe that he'll be free much sooner. So too will Belarus.
Today, more than 30 thousand volunteers in Belarus are helping Ukrainian forces, informing them about the movements of Russian military convoys and aircraft. In the Telegram app Belaruski Hayun, Belarusians created a special chat bot: it's a forum where ordinary, brave citizens all over Belarus send photos of Russian troop movements, providing crucial intelligence to the Ukrainian forces.
Just recently, at a military air base Machulishchy near Minsk, Belarusian partisans from the Victory Plan group, Peramoha, carried out a successful drone attack. They damaged a very important Russian war-plane, a half-a-billion dollars worth of A-50, a flying radar, that was guiding Russian missile attacks on Ukraine. Russia reportedly has very few of such aircraft. The organisation ByPol, led by my close ally and former police colonel Aliaxandr Azarau, took responsibility for this attack.
Also last month, underground activists raised a large Ukrainian flag above a factory in Minsk, and cyber partisans hacked the site of the Social Security Fund and sending an Ultimatum demanding the release of all political prisoners. It also shows that Lukashenka cannot suppress the resistance inside Belarus.
Many Belarusians living in Ukraine and abroad have joined the Ukrainian army as volunteers. In March, the first Belarusian battalion of Ukrainian Armed Forces was formed, which has by now expanded into a larger unit known as the Kastus Kalinouski regiment. The regiment has been taking part in the fierce battles near Irpen, Kherson, Bakhmut. Besides the Kalinouski regiment, the Terror Battalion, The Pahonia Regiment and several other Belarusian units are fighting in Ukraine "For Freedom, Ours and Yours". Many of the volunteers in these groups have fought in Ukraine since 2014, when Russian forces occupied Crimea and parts of Eastern Ukraine, Donetsk and Luhansk.
At least 18 Belarusian soldiers have already lost their lives defending Ukraine. On the 26th of January, Eduard Lobau, a former political prisoner from Belarus, was killed in battle near Vuhledar. He was 34 years old. Eduard believed that by liberating Ukraine, he was also liberating Belarus, because the fight against tyranny is not limited by borders. He believed that a free Belarus cannot exist without a free Ukraine, and vice versa.
This belief is shared by the vast majority of my supporters. From the beginning of the war, thousands of Belarusians abroad, many of them political emigrants from 2020, donated money to support the Ukrainian Army and Belarusian units fighting alongside them. Here in the UK, the Belarusian diaspora have donated a significant package of non-lethal aid to the Ukrainian army.
Dear friends,
In 2020, Belarusian protests were peaceful. We demanded free and fair elections. We believed that changes might be achieved through national dialogue and reconciliation. We created the Coordination Council. We hoped for swift change.
But Lukashenka's brutality against our fellow citizens and the Russian aggression against Ukraine have changed everything.
In August 2022, I created the United Transitional Cabinet to serve as a Government in exile to support and serve our people. It includes a special representative for Defence and National Security, lieutenant colonel Valery Sakhashchyk, and a special representative for the Restoration of Rule of Law, Aliaxandar Azarau from ByPol whom I have mentioned a short while ago. Together they are our "military and security wing".
Belarusian veterans, some wounded, have left the Ukrainian army. These veterans need medical treatment, psychological and financial support. This is what Valery Sakhashchyk is organising for them.
Another of his responsibilities is forming a new Belarusian unit within the International legion in Ukraine. I'm sure that we will be able to do more for Ukraine, which will also mean doing more for democratic Belarus, when we establish high-level contacts with the Ukrainian government. I assure you that we are constantly working to this end.
Dear friends,
I'm convinced that democracy in Belarus is one of the cornerstones of the future security of Europe. I firmly believe in Ukraine's victory and I think that it will open the window of opportunity for a political change in Belarus.
But I also believe that changes in Belarus can take place, even before Ukraine's victory. Lukashenka's regime is much more vulnerable than it might seem. The regime's behaviour shows that it's not entirely consolidated and secure, and we must not stop putting pressure on it.
I expect that the EU, UK, and US sanctions against Lukashenka's regime and Russia can contribute to the regime's crumbling. People's dissatisfaction with Lukashenka's regime and with its involvement in the war will grow dramatically. This time, unlike in 2020, Russia is going to be distracted by its own economic and political problems and they won't be able to support Lukashenka as they have done so far.
We know that Belarusian elites will accept the necessity to restore law and order, which Lukashenka mocked in 2020 and has continued since then, having fraudulently proclaimed himself president of Belarus.
As I have mentioned before, the changes in Belarus can happen earlier than many expect. It can be a result of Russian military failures in Ukraine, as well as of splits of elites and internal clashes within and between groups of the ruling elites. The system built by Lukashenka is not flexible and is not able to react swiftly to any external changes.
We saw that during the recent death of foreign minister Makei, when the regime kept silent and did not show any reaction at all. Same happened following the recent attack on the Russian surveillance plane. This bold act of bravery literally paralyzed Lukashenka's regime and demonstrated its incompetence and vulnerabilities.
The current geopolitical turmoil can provide Belarus with a unique opportunity to leave the Russian orbit, and make our country a truly sovereign, independent and democratic European state. When this window of opportunity opens we will need to act quickly and bravely.
Therefore now we are working on a new draft of the Constitution of Belarus. It must ensure the division of powers and that dictatorship in Belarus will never repeat. We are waiting for a legal assessment of this draft from the Venice Commission.
We are also working on more than 20 most critical reforms for Belarus: in the military, political, economic, judicial, cultural and information sectors. Some of those must be adopted during the transition period and some will need to be adopted after a democratic Parliament is elected.
We are working on preparing professional staff capabilities for the new Belarus. In my Cabinet, we have a special officer in charge of training diplomats, officials and public managers who will be able to quickly fill out positions in state governance and public sector management.
We are sure that Belarus must leave the so-called 'Union State with Russia' and the Collective Security Treaty Organization as soon as possible. These organisations keep Belarus in the Russian orbit, they also threaten Belarusian independence and would only be slowing down any reform process unless abandoned.
Instead, we will be working on harmonising Belarus laws to European standards so Belarus can be included in European programs. It will allow us to count on macro-assistance from the European Union.
Together with the European Commission, we have developed The EU Comprehensive Plan of Economic Support to democratic Belarus. The EU has committed 3 billion euros for conducting reforms and stabilising Belarus during the transitional period. We know that it's not enough, but we are working on expanding this plan.
After Ukraine wins the war, Eastern Europe will need a Comprehensive Marshall plan. And it's very important for Belarus to be included in that. We must make sure Belarus remains stable and committed to its international obligations. Otherwise, there will be a constant threat to Ukraine and Europe.
Belarus must become a part of the new security architecture of Europe. We will conduct the reform of the military, and will cooperate closely with our neighbours and European allies in this direction.
Belarusians are profoundly European. Therefore, we are asking our European partners to articulate the European future for Belarus. We don't speak about membership in the EU today, but we want to bring Belarus closer to Europe. Belarusians must hear that the door of Europe is open, and Belarusians are welcome there. The first step should be Belarus membership in the Council of Europe.
We are relying on the United Kingdom's friendly support in our work. We are grateful for the UK Government's assistance to the Belarusian independent media sector. However, this assistance could cover other sectors as well: to strengthen Belarus's civil society sector, training for professionals and diplomats. Expanding the Chevening scholarship for Belarusians can be one of those solutions. We would like young Belarusians to have internships and fellowships within the British government, parliament, and NGOs. We would be grateful to get your expert advice and feedback on our projects of reforms and the Constitution draft as well.
The UK has tremendous expert capabilities in transitional justice. We hope we can rely on your assistance in preparing proceedings against the regime and its cronies and in collecting evidence of their crimes. Lukashenka's regime has a long record of crimes committed against his own people including abuse of power, extra-judicial killings, human rights crimes, crimes against humanity, war crimes, crimes of deportation, violation of international peace treaties and international law. Since 2020, more than 60000 people have been put through Lukashenka's prisons. More than 4000 are being kept in the Lukashenka regime's prisons for political reasons today. We have to restore justice, and bring the regime's cronies to account.
As for now, the UK can become an advocate for a new democratic Belarus, and increase assistance to Belarusian democratic forces, and clearly articulate that any attempts to undermine Belarusian independence will not be tolerated. The UK is one of the signatories of Budapest memorandum – a key instrument assuring Belarus sovereignty and territorial integrity.
Dear friends,
Three years ago I couldn't have imagined that one day I would be the elected president of my country. And I couldn't have imagined myself speaking in front of such a distinguished crowd about Belarus's struggle for democracy and independence.
Even now, I am, first of all, a mother of two and a loving wife, waiting for her husband to come home from Lukashenka's prison.
Our Nobel winning writer Sviatlana Alexievich called her book about women at war "War's Unwomanly Face". As a woman, I don't know much about warfare, and talking to you about European security is not exactly my cup of tea. But we unfortunately live in a time of war. We didn't choose it, yet we have to deal with it.
Sviatlana Alexievich wrote that she would like to write a book about war, after which any future wars would be impossible. I believe that such a history book is being written now in Ukraine by Ukrainian and Belarusian heroes. Their victory will be the victory of peace and justice over Russian militarism and tyranny.
Some of the chapters of this book are being written in Belarus. I very much want this book to have a happy ending for my country and for the Belarusian people. For us, a happy ending means ensuring permanent peace, democracy, independence and freedom for our children.
Thank you".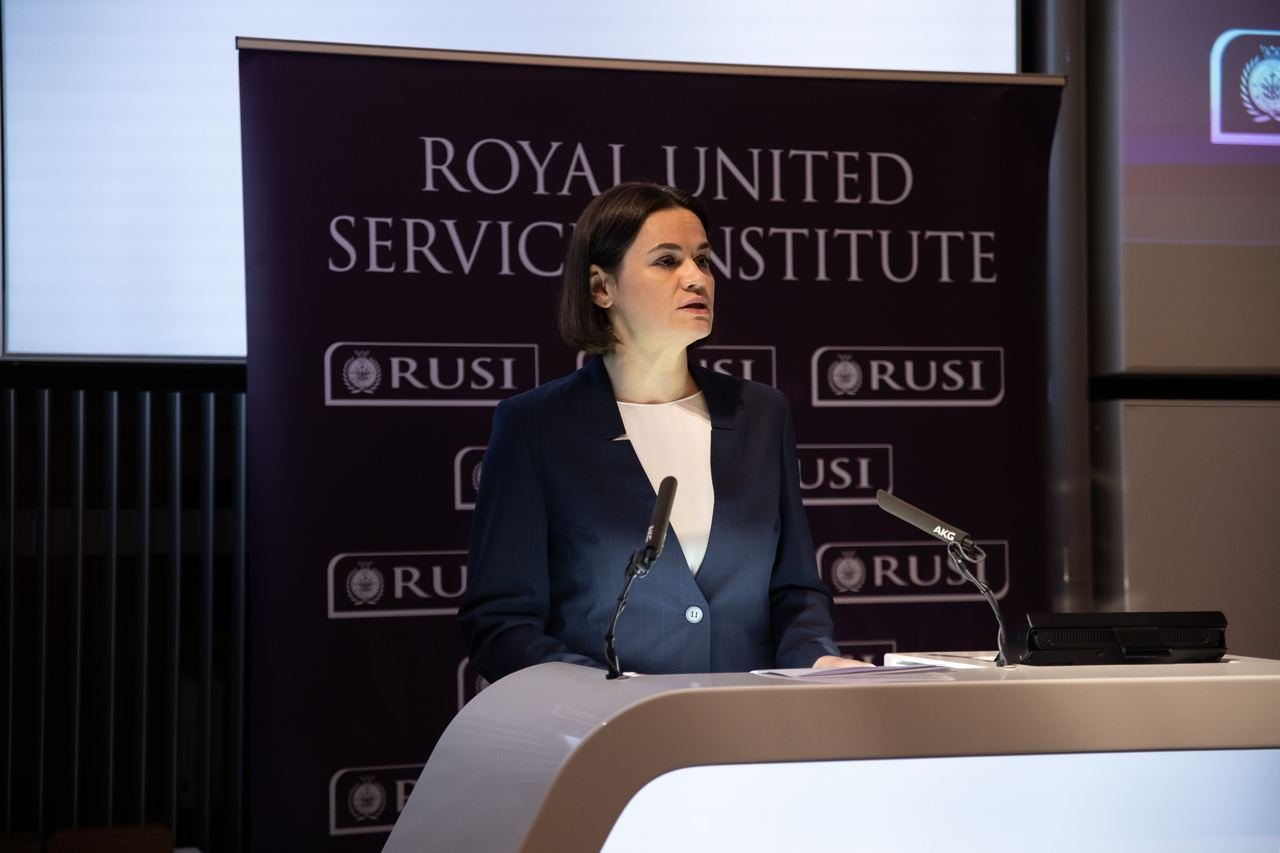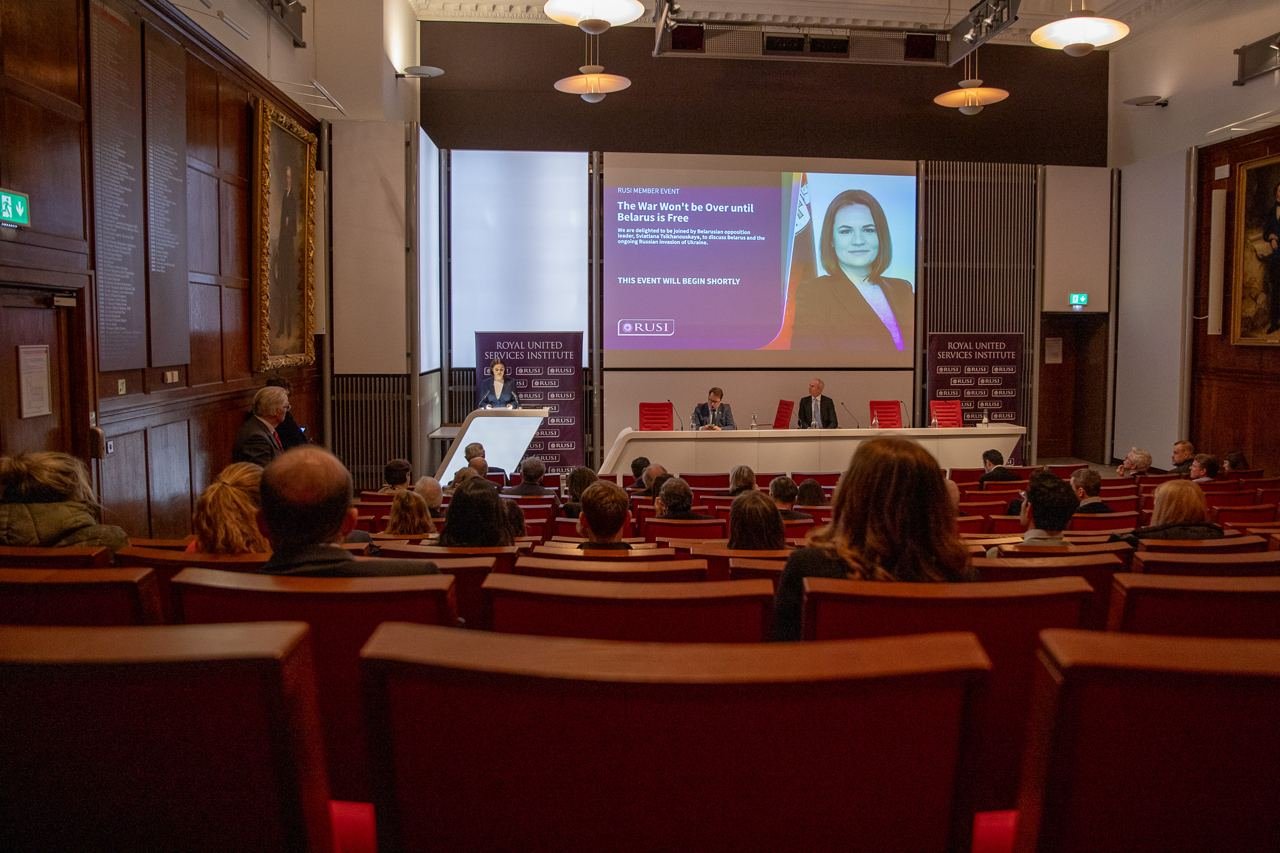 8 March 2023 в 21:06