"Dear friends, dear members of the press
It's a great privilege to speak at the Munich Security Conference on behalf of Belarusian people and the United Transitional Cabinet of Belarus.
I was glad to meet German Chancellor Scholz, President Von Der Leyen, and Czech President-Elect Pavel and many other dignitaries representing nations who support Belarusians.
We discussed how to make Lukashenka's regime accountable for its crimes against humanity, and for its war crimes in Ukraine. And how to help Belarusians preserve independence and restore democracy in our country.
I believe that democratic changes in Belarus will be the best help for Ukraine's victory. They will also help to stop Putin's bloody war of aggression. Belarus should not be the source of constant threats, but a responsible contributor to the stability and peace in the region.
Today, I want to share our vision about the changes in Belarus, in its political system and foreign relations:
First. Belarus will leave the Union State with Russia. After February 24, we don't see any prospects of partnership with the Russian Federation, a state that disrespects independence, sovereignty, territorial integrity and national identity of its neighbors. Our goal is to transition from dictatorship to democracy, and this is not possible while Belarus is chained to Moscow.
Second. Belarus will leave the Collective Security Treaty Organization or CSTO and military alliance with Russia. We should not be in the same military alliance with the aggressor. Russia uses military cooperation for exploiting Belarus as a launching pad for attacks on Ukraine and to threaten other neighbors. As we speak, Russia is conducting a hybrid occupation of Belarus. Every Russian soldier must leave Belarus immediately. And this should be demanded by the international community as well. Illegitimate Russian military presence in Belarus is a threat not only to our country but to other nations too.
All agreements between the Lukashenka's regime and Russia signed after the 2020 elections must be recognized as invalid. All economic deals with Russia must be revised from the perspective of their compatibility with our national interests. Lukashenka does not have the mandate of the Belarusian people and does not have the right to sign anything on behalf of Belarus. Instead, Belarus will uphold its commitments under international law.
Third, Belarus will normalize relations with its other neighbors and will launch broad regional cooperation, especially with Ukraine, Poland and the Baltic States. We will bring to the new quality level relations between our countries in political, social, cultural, and economic spheres. We will launch cooperation on regional security and foreign policy.
Fourth. Belarus will seek more cooperation with the European institutions and EU member states. Belarus will join the Council of Europe. We will develop a long-term strategy of cooperation with the European Union. Because Belarus is Europe. We are in the process of preparing democratic reforms for our New Belarus, and we will make sure they are based on the best European practices.
Fifth, the democratic Belarus will make all necessary steps to become a reliable and responsible international partner. We will adopt a new constitution that will prevent Belarus from falling again into tyranny, and will build democratic institutions to rule out the abuse of power.
In order to achieve this, we need international support. Therefore, I call for the creation of the international coalition for democratic and independent Belarus. We invite all like-minded states to join this initiative and elaborate a comprehensive strategy to help Belarusians in defending their independence and ensuring democratic transition.
Thank you, i am ready to answer your questions!"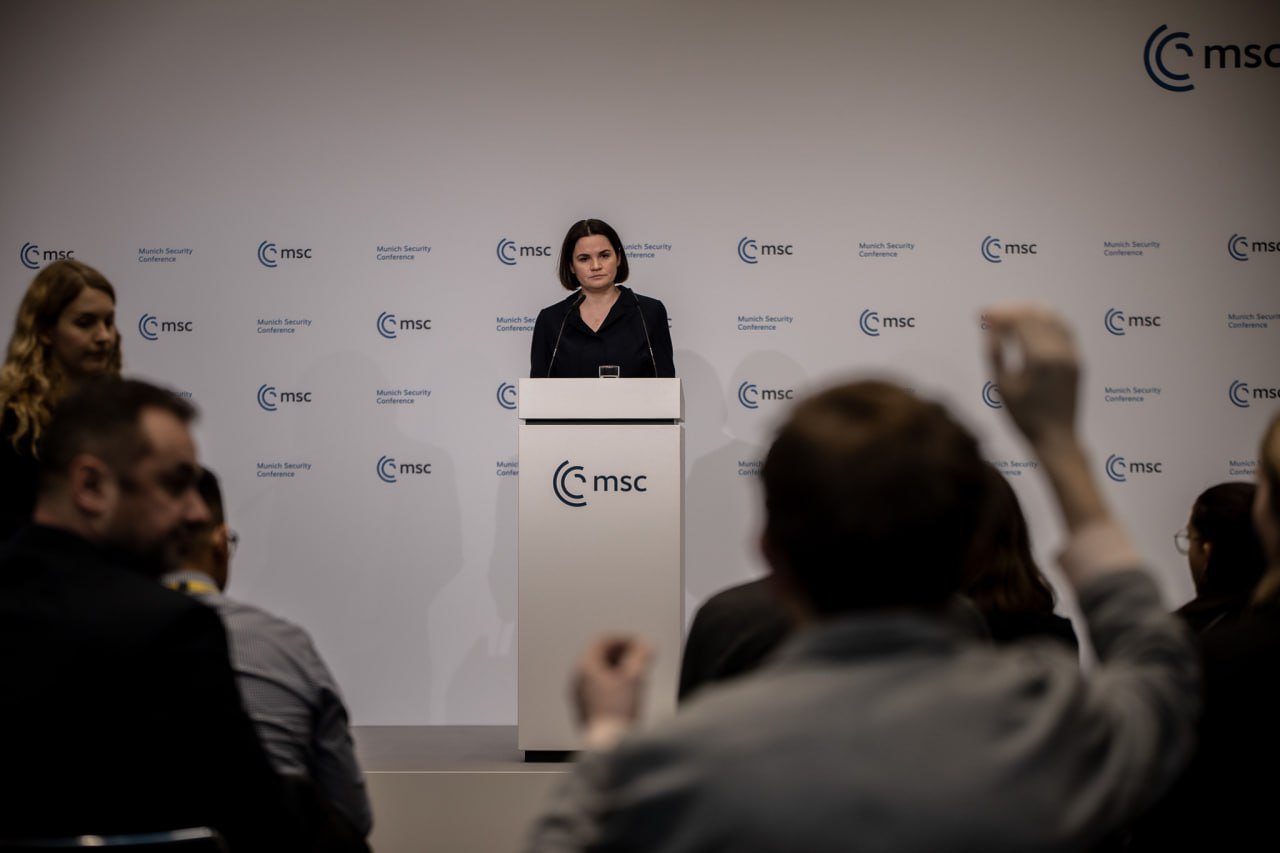 18 February 2023 в 20:00